We're all leaders
How alternating the 'sweeper' role keeps us all a little sharper in every meeting.
We're all leaders, but we don't all need to be leading
From facilitating squad ceremonies like standup and retro, to fielding the cacophony of slack, to keeping stakeholder up to date with latest releases and learnings, to keeping us true to our goal at all times — it can really help to have a facilitator in the squad.
There are lots of expressions of this out there - team leads and bosses, scrum masters and product managers. But these approaches lack something crucial: they assume one person should be all-knowing and all-powerful.
Sure, one person could do everything, but why? By sharing team responsibilities, we acknowledge that we all believe in our goals and the meetings and processes we have in place to support them. We have an obligation to dissent if something feels wrong - and an opportunity to be creative when we think of new ideas.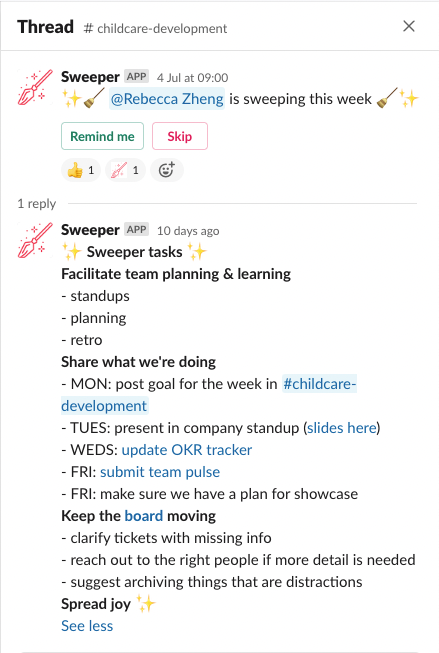 We call them the Sweeper
We made a little slack bot to keep things easy (and because, you know, we like coding).
Each week it picks a squad member randomly. Not a good time? No problem, just skip.
Otherwise you're taking personal responsibility for driving the team forward and making sure the rest of the company is in the loop.
Practiced leaders, practiced listeners
By taking turns sweeping, we've not only honed our own leadership, but sharpened our eye for points of friction, emotions. We're better at noticing when to lend a hand and know when to celebrate a landmark.
---
Author
This post is written by Isabel Cooper, an engineer in the Childcare Development squad at Koru Kids.